Health Industry Case Study
Lorem ipsum dolor sit amet consectetur. Ornare vel dictum euismod
Overview
Dr. Kristina Zakhary is a top expert in Rhinoplasty and Facial surgery in Calgary, having performed over 2500 successful Facial Cosmetic Surgeries, improving the appearance and confidence of her thousands of patients.
Despite her impressive track record, Dr. Zakhary struggled to build an online presence to generate new leads and scale her business beyond word-of-mouth referrals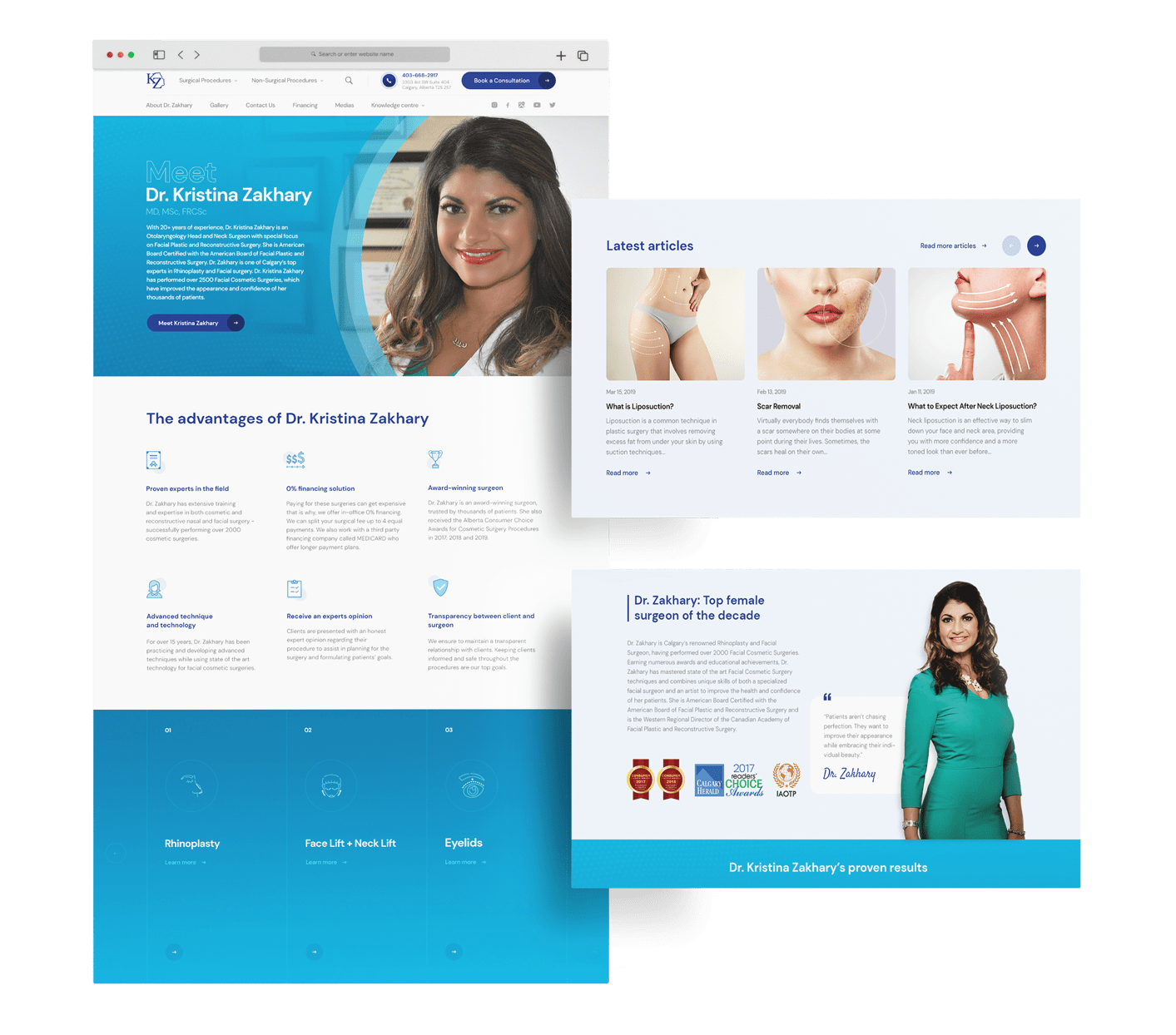 Results
TOP3
Consistent ranking for top 3 results for all major keywords on Google Search and local listing
193%
Increased conversions from lead to consultation by 193%
51%
Consultation to signing client conversion increased by 51%
272%
Increased conversions from website visitors to leads by 272%
38%
Decreased the CPL by 38% from $95 to $30 per quality lead
Our
Approach
When Dr. Zakhary came to OneCore, her main need was more leads. OneCore was able to identify there were a lot of challenges from helping her achieve the discussed goals, so we implemented the following strategies to help her achieve them:
Boosting reputation
Developed a comprehensive brand strategy to elevate Dr. Zakhary's reputation as a trusted expert in her field, using Alberta online newspapers, publications, TV and social media channels.
Improving organic presence:
Implemented an SEO strategy to improve visibility on search engines and increase the organic traffic to the website.
Profitable ROI approach to media buys:
Created a data-driven approach to media buying, using advanced targeting and optimization techniques to drive leads at a profitable ROI.
Centralized lead management CRM database:
Built a customized CRM system that automated the pre-qualification of prospects, follow-ups on missed calls/ texts, first consultation bookings, and follow-up procedures, all the way to signing a client. This allowed Dr. Zakhary to efficiently manage her leads and increase her conversion rates.
"I have been working with OneCore Media for several years and I really feel that they are true professionals in their field. The engagement has led to a significant increase in conversions and sales exceeding my business goals. Their customer service and project management are notable in the workflow."