Street Fashion Shoe Giant Burnetie Increases its Canadian eCommerce Market Reach by 170%
International Shoe Company utilizes content marketing, SEO and eCommerce UX design strategies to grow its brand nationwide in the Canadian Retail Landscape.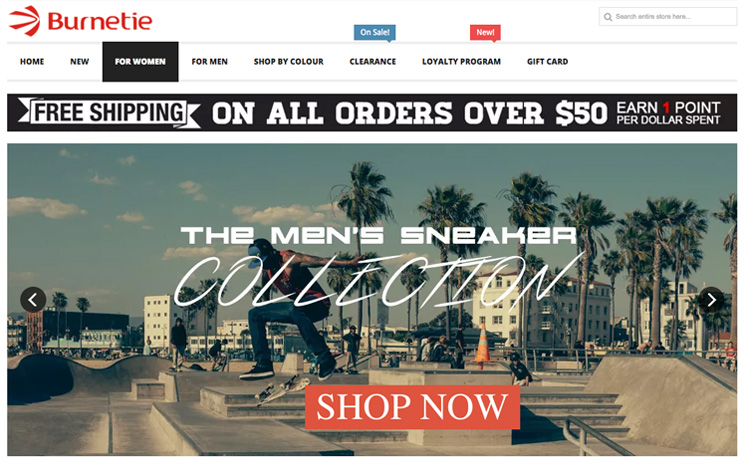 Toronto, ON (February 28, 2015) – Burnetie Shoes, an international shoe brand that specializes in responsible and eco-friendly shoes, has selected OneCore Media as its eCommerce, marketing and web design partner in order to increase its reach in the Canadian market.
OneCore's strategy and partnership approach made the company stand out from the pack and was a key factor in Burnetie selecting the firm as it expands its nationwide reach.
"Burnetie was looking to work alongside an agency that would understand its mission, goals and values," said Lawrence Farbman, Vice President of eCommerce Strategy at OneCore. "They were drawn to the partnership approach that OneCore provides as it relates to eCommerce technology and marketing. Our two companies working together was a perfect fit."
OneCore worked to provide a variety of marketing, search engine optimization, eCommerce and web design services for the shoe brand. One of the first steps was the creation of a new responsive design for Burnetie's website. The new design ensures that the site remains beautiful and fully functional on any screen, including smartphones, tablets and computers of all sizes.
Once the website was designed and implemented, OneCore and Burnetie set out to create an eCommerce, marketing and SEO strategy that would bring the Burnetie.ca website in front of more eyes than ever before. The work completed by OneCore puts Burnetie in a position to attract more customers across Canada and significantly increase its market share.
Content marketing is a huge part of the overall strategy. By creating search engine optimized website content and gearing it towards the specific audiences that Burnetie is looking to reach, the team at OneCore has been able to increase the shoe company's Canadian market reach by 170% organically with Magento Community 1.9.1 as the ECP post migration from Shopify. This represents significant growth and shows the strength of the partnership between Burnetie and OneCore.
"By effectively targeting our marketing plans, we've seen huge growth in Burnetie's organic reach," said Farbman. "Our ongoing partnership will continue to push Burnetie's brand further and promote the company to a wider audience."