JavaWorks Coffee Company Selects OneCore to Fuel Canadian Retail Growth
JavaWorks Coffee Inc, a national Canadian specialty coffee roaster, has selected OneCore as its partner as it continues to expand in the Canadian marketplace.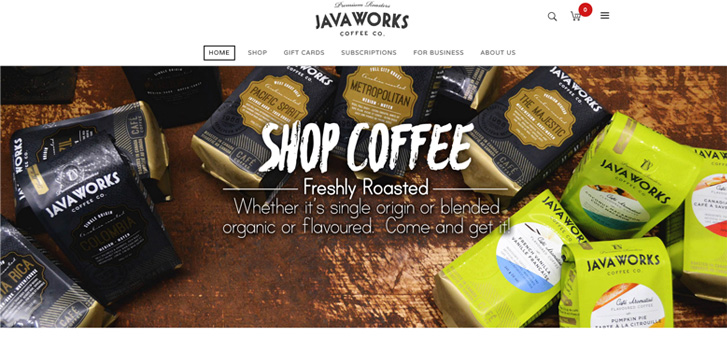 OneCore will provide JavaWorks with the technical experience and knowledge of the Canadian eCommerce landscape it needs to accelerate growth both online and in retail stores across the country. JavaWorks currently supplies coffee to a variety of cafes, restaurants and other hospitality establishments. In addition, they supply retail packaged gourmet coffees to many specialty food retailers nationwide. OneCore's experience and partnership approach will accelerate the brand's growth both in Canada and globally.
A major focal point of the growth strategy is a newly-designed JavaWorks website experience. The new website, located at JavaWorks.ca, is designed as a one-stop shop where customers can purchase gourmet fresh roasted coffees, premium teas and wide selection of specialty cafe products.
The site is designed with a focus on user experience, enhancing conversion rates for JavaWorks and allowing the company to excel at its goal of providing a premium coffee delivery service to Canadians.
The new JavaWorks website was designed by OneCore with Magento Community 1.9.1 as the ECP of choice. Reasons for this choice include scalability, conversion optimization features and customer segmentation abilities with automated triggered messaging. The newly developed website also incorporates a responsive design which is mobile friendly. Mobile search engine queries now exceed traditional desktop searches, so having a responsive website that looks great on every screen was vital for JavaWorks in order to sustain SERP ranking on search engines like Google.
"During the website and platform development stages, it became clear to all parties that having a responsive website was crucial," said Lawrence Farbman, Vice President of eCommerce Strategy at OneCore Media. "With more and more searches being done on mobile every day, JavaWorks understood that their new website design must look great and be fully functional on phone, tablets and smart TV's in addition to traditional desktop computers."
The JavaWorks growth strategy focuses on eCommerce as a way to grow the company's already strong national brand across Canada and globally. The technology and tactics used by OneCore Media allow for advanced marketing and customer service features such as automated email remarketing triggers as well as full CanadaPost Shipping API technology integration, which make it easier to full, sell more and go global.
Both JavaWorks and OneCore Media are excited about this partnership and looking forward to incredible growth in the coming months.