Ad World Masters' Agency of the Year Award Two Years in a Row!
It wasn't a one hit-wonder when OneCore Media received the Agency of the Year Silver Award offered by Ad World Masters in 2020, coming back at it again in 2021.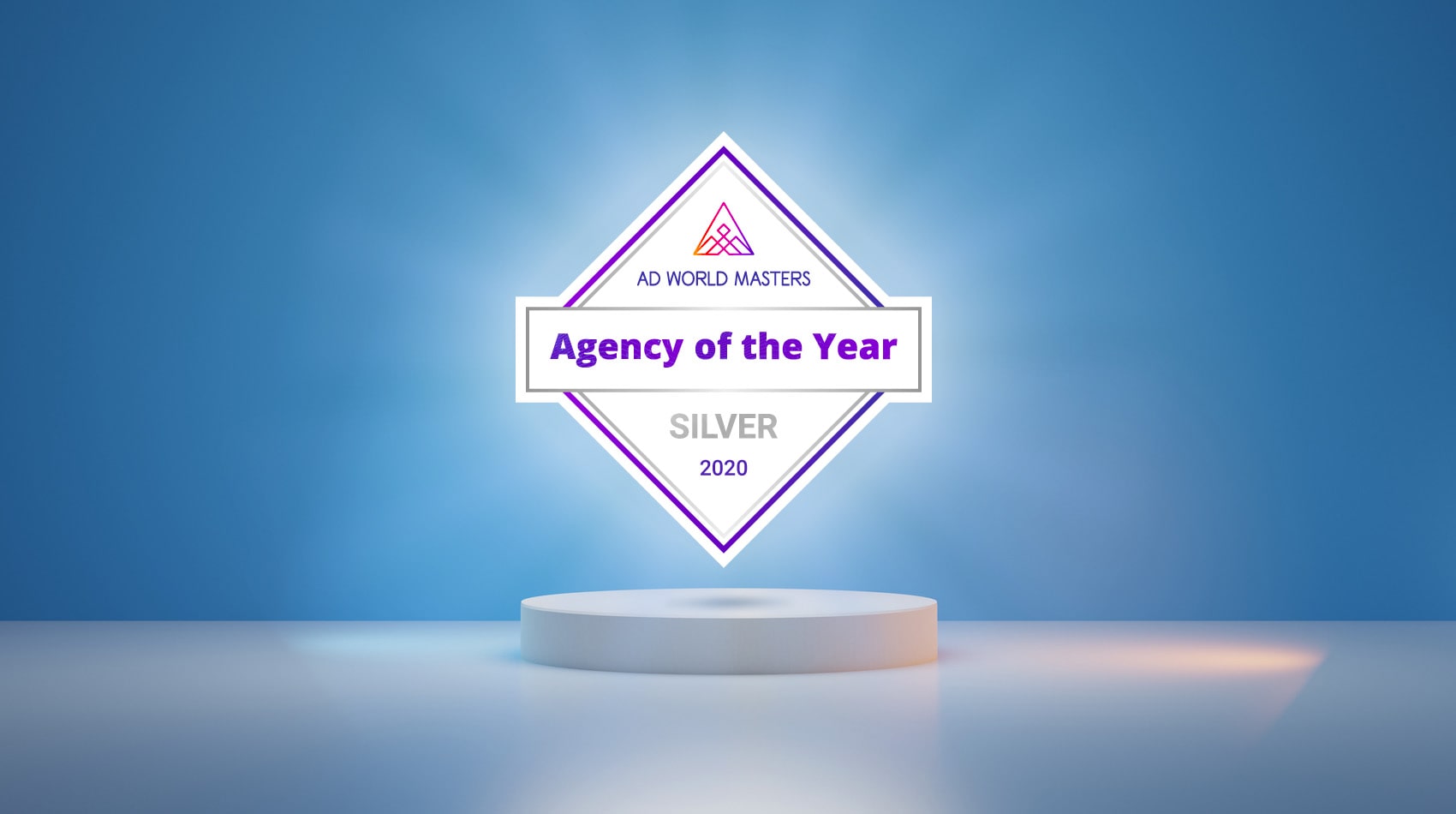 It simply goes to show that OneCore Media aims to deliver results when it comes to fully integrated marketing solutions that enable its client's to connect with relevant users. OneCore was able to achieve this while also providing access to more qualified leads, offering a cost-per-acquisition that compares favorably against other agencies, improving the overall user experience.
OneCore Media's First Win
As a full-service marketing agency, OneCore Media was able to differentiate themselves and their offerings by customizing each of their marketing strategies to the unique needs of each client. By specializing in selected industries, OneCore Media is able to leverage this data and experience to offer their clientele data-backed marketing strategies aimed to produce results by growing the bottom line. By creating a unified marketing approach where different channels work together to drive quality traffic and conversions, OneCore was recognized for its results when winning the Ad World Masters' Agency of the Year Award.
Examples of What We've Done for Our Clients
Thanks to our presence in a select number of industries, OneCore Media has helped clients position themselves for growth and success beyond marketing.
The following are some of the notable results OneCore was able to achieve for its clients over the past year:
By launching a targeted paid media campaign for one of our local PPE retailers, we were able to generate results that increased sales of 3600% over the course of 2020. Furthermore, leveraging the different channel strategies to drive growth proved essential when improving and solidifying the market position of a sanitizing company in the incredibly competitive market brought by the pandemic. This resulted in more repeat and up-sell opportunities with existing clients while attracting new customers.
Our multi-channel campaign for a fire safety equipment service yielded a 200% increase in qualified leads over the previous annual period. Creative use of online resources and content brought to their consumers allowed this client to offer a unique experience to its target audience, which enabled true differentiation in the competitive digital landscape.
OneCore Media helped a leading window and door service company attain a completely new market which accounted for about 35% of their client base, and incorporated a defined multi-touch approach to the marketing strategy in order to have a multitude of channels for multiple user touch points. This led to two-fold increases in average revenue per month. The brand exposure and positioning led to higher placement in searches and an improved conversion rate from lead to customer. The restructured approach paved the way for a more efficient sales pipeline that will reap results for the long term.
Our Continued Commitment to Our Clients in 2021
For this coming year of 2021, OneCore Media will remain dedicated to aggressively seeking the most innovative and data-driven solutions for our customers. One aspect that differentiates OneCore Media is its continuous effort to provide comprehensive marketing assessments to truly understand the strengths and weaknesses in the approach, and identify opportunities as well as threats. The OneCore team stays ahead of the curve through industry insights and experience.
With a tailored method to understanding and achieving OneCore's client's needs, the work strays far from a cookie-cutter approach. The goal is long-term growth, so that OneCore fosters long-term marketing solutions to ensure client's ongoing success. We help our clients navigate through the constantly evolving world of the Internet, staying ahead of the curve.
About OneCore Media
Founded in 1999, OneCore Media began as a web development firm. In the years since, the company has expanded the range of services offered to small and mid-sized businesses, focusing a unified holistic approach when it comes to marketing. With more than 40 professionals engaged in the mission, the company is poised to continue expanding into more industries and supporting a wider variety of business owners.
To read about One Core Media's reception of the 2019 ADWM Silver Award, please click here. : https://adworldmasters.com/results-for-ad-world-masters-agencies-of-the-year-2020/
About Ad World Masters
Ad World Masters is the first worldwide entity dedicated to aiding marketers connect with agencies that are uniquely suited to aid them with online reputation enhancement, growth within specified market sectors, and the creation of a unified online presence. Currently, Ad World Masters maintains data on just under 11,500 agencies found in 182 nations. On an annual basis, ADWM recognizes three agencies for outstanding performance and support to their clients.
OneCore Media is honored to accept the Ad World Masters Silver Award for 2020. We pledge to continue providing the service and support to our clients that earned us a place among the top three agencies recognized for their outstanding work.